Crankshaft Resizing – Rod Reconditioning -Balancing And Beam Polishing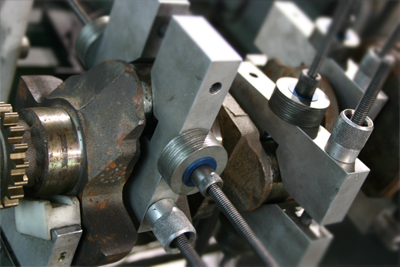 Crankshaft Resizing allows for the removal of general wear, grooves and out of round crankshafts using the Berko 260 Crank Grinder. We can also do off-set grinding, for when an aftermarket Stroker crank is not available.
First rods are checked for straightness and length. We can perform rod reconditioning as necessary re-bushing the small end and resizing the large end, usually we replace all rod bolts with ARP's.
Next,the correct bob-weight for the crank must be determined. We weight match each rod's large and small ends, pistons are weight matched, rings and bearings are weighed. We can now spin up the crank to determine where weight needs to be ground from or added for the precise balanced crankshaft.
With over 40 years rebuilding muscle car engines and custom vintage car engines we've learned a lot about the importance a balanced crankshaft plays with regards to enhanced performance and minimization of engine wear.